Tomoko Konoike "Primordial Violence Vol.2 A New Species of Bone "
past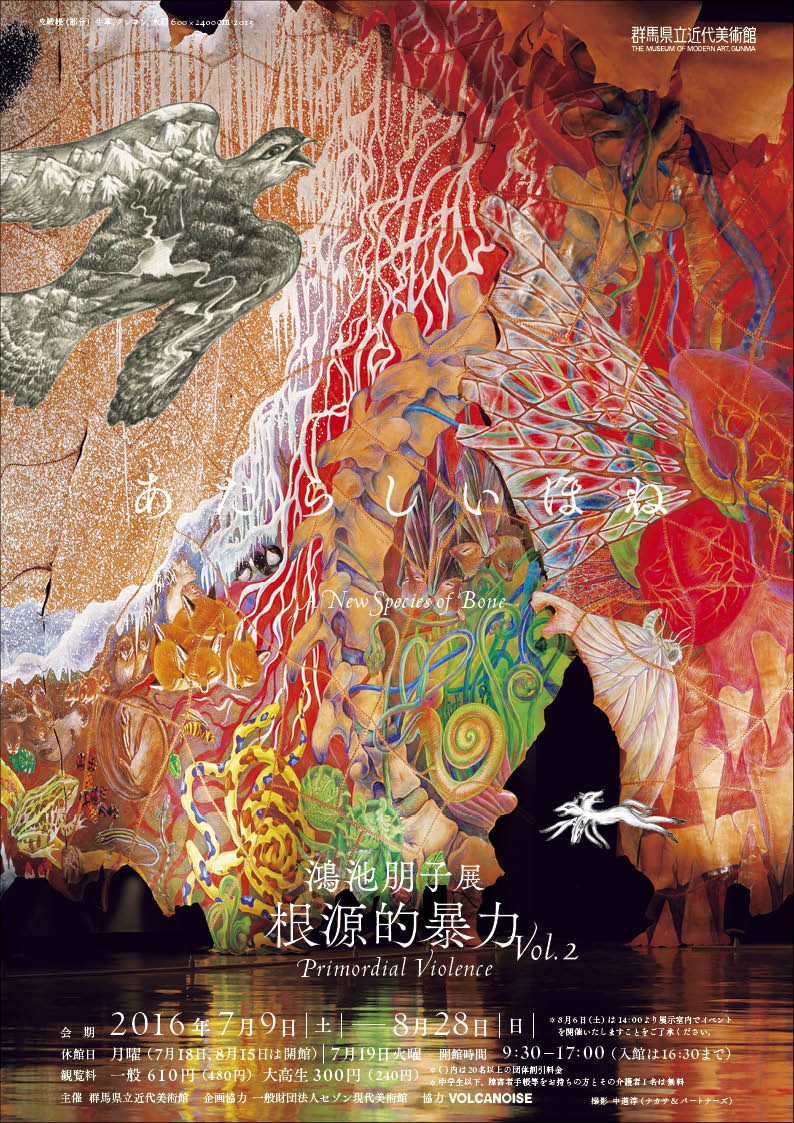 Tomoko Konoike 2015
©Tomoko Konoike
Last autumn, "Primordial Violence", a solo exhibition after a 6 year absence by Tomoko Konoike was held at the Kanagawa Kenmin Hall. Since the 03/11/2011 earthquake, temporarily pausing her activity, Konoike continued to observe humans exposed to the oath of nature by visiting various lands, meeting people, and touching the energy of the people in that climate, like if making into shape of what the "Hand Saw", unfolded various works using new materials and techniques such as cow-calf, clay, and needleworks.
Demanding a change in the mind for art, which is closed only to human speculation and phenomenon, the trial of inquiring again going back to the origin of art where humans create things called upon many attentions, especially with the skins sawed together with medium being natural disasters, organs, and animal/plants ranging to 24 meters "Skin Dropped Curtain" shook the mind and body and left a vivid memory of the audiences'.
For this exhibition, the challenge towards completely new installation starting with afresh detached "Skin Dropped Curtain" continuously going under a raw transformation, with newly added works can be seen. Like what Konoike who felt the vibration of the Earth said, "Can no longer stay the same", this exhibition will go under transformation absorbing the feeling of that land, and will make an appearance in front of the audience with growth.
Related Events
・Art Complex & Talk  August 6, Saturday 14:00 -16:00
Welcoming Fuyuki Yamakawa as a guest, please experience the exaggerated new appreciation space by the sound generated from the body.
・Curator's gallery talk July 20, Wednesday / August 13 Saturday
14:00-1500
EXHIBITION DATA
Venue

The Museum of Modern Art, Gunma

Period

July 9, 2016 – August 28, 2016

Open hours

9:30 – 17:00 (Admission until 16:30)

Holiday

Mondays (Except July 18 and August 15)/July 19, Tuesday

Admission

Adult:610 (480) yen, University/highschool student :300 (240) yen, Junior highschool/primary school student:300 (200) yen

 

( ): Group fee

Organize

The Museum of Modern Art, Gunma

Co-Organize

Sezon Museum of Modern Art

Cooperate

VOLCANOISE

 

(JA) VOLCANOISE